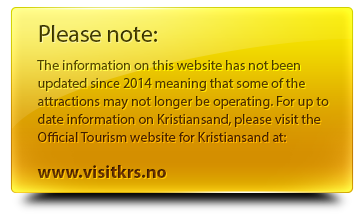 There are so many things to do in Kristiansand that we don't really know where to start. Some Attractions are weather dependent and others you can do all year round. If you think of one that could be included in here, please let us know.
Click on any of the pictures below to get more information on the activity.
A map of these Attractions can be found on the 'Map' page.
This is probably the most obvious choice. The Kristiansand Dyreparken (Kristiansand Zoo)

Odderøya Live Kristiansand Festival

Great Music festival in Kristiansand featuring top bands from around the world.

There is a variety of different festivals in Kristiansand.

A beautiful place to visit all year round.

There are a range of different sports that you can play in Kristiansand.

Kristiansand Football Team - 'Start'

Kristiansand Quart Festival is one of the largest music festivals in Norway.

Kristiansand Metro Bowling has bowling, billiards, video games cafe and a kiosk.

There is a small ski field in Tveit Kristiansand.

A ski jumping place 40 minutes from Kristiansand.

Cross Country skiing in Kristiansand

There are many different places you can go cross country skiing in Kristiansand. market

Kristiansand Fiskebrygga is a great place to eat or sit and enjoy the surroundings.

Agder Theatre in Kristiansand has many different acts and puppetry shows for the kids.

Kristiansand Badeland Waterpark

A massive waterpark in Kristiansand for the whole family!

2 beautiful lighthouses along the coastline of Kristiansand

The Norwegian Air Force base in Kristiansand occasionally has Air Shows.

Kristiansand has great places to go paintballing and there are companies that can organise it for you.

Kristiansand has the most popular beach in Norway!

Kristiansand Swimming centre with a heated pool.

From salmon to makeral, Kristiansand is a great place to go fishing.

Picturesque waterfall in Boen Kristsiansand.

Lillesand is a beautiful little town on the outskirts of Kristiansand.

There is an old heritage center on the Bragdøya Islands in Kristiansand.

Skating is pretty popular in Kristiansand. Here is some info on skateparks

There are many types of animals that can be hunted in kristiansand - with a licence and permission.

Get some amazing views from a helicopter ride over Kristiansand!

See the latest movies at Kristiansand Cinema (Kristiansand Kino)

The Kristiansand Kanonmuseet has one of the largest canons ever built.

The Kristiansand Fortress dates back to 1672.

German bunkers in Kristiansand

There are many German bunkers in Kristiansand from WWII.

The Kristiansand Sørlandet Ship (Southern Land Ship) worlds oldest fully rigged ship.

The Kristiansand Cathedral is a beautiful old church in the middle of the city centre.

Skydiving over Kristiansand is an amazing experience.

The Kristiansand Sesame City train is a great way for the kids to see the city centre and other highlight