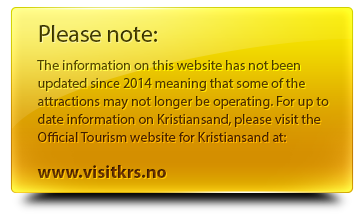 Kristiansand is the capital of the county of Vest-Agder and is the 5th largest municipality in Norway with a population of about 80,000. it is located on the southern coast of Norway and is one of the most popular tourist destinations in Norway during the summer months.
We also have information on tourist visas for Norway

People from all of Europe and the United States often visit here for the summer period as there are many beautiful beaches and Kristiansand tends to have the warmest weather in Norway during this time.

We have one of the biggest music festivals - Quart Festival - as well as great Salmon fishing, hunting, sailing, boat tours, helicopter tours and many other Attractions.

There is a main train station also in Kristiansand which links to other major cities in Norway and the Norwegian discount domestic airline flying from Kjevik which have cheap flights to Oslo. SAS also fly to every major Norwegian city from Kjevik. There is car hire available from the Kjevik Airport from Avis and Budget car hire.

Kristiansand is also home to a great picturesque fish market called 'Fiskebrygga'. Here you can enjoy some fresh seafood at 5 different restaurants or directly from the market. It is built next to the water and you are able to drive your boat into this area. This is a very popular spot in the summer with boats docked everywhere.

For those that enjoy a locally brewed beer, Kristiansand just this which is called CB. it has a distinctive taste and is very popular with the locals.

For some history from WWII, there is a massive canon built by the Germans that overlooks the sea. This is open every day during the summer season. There are also many old Fortresses and while travelling in a boat along the sea next to the city, you can also see old German bunkers.

The popular tourist destination Preikestolen (Preachers Chair) is a 2.5 hour drive from Kristiansand and is a great place to visit overnight. It is a cliff face 1800 feet above sea level overlooking a beautiful fjord.

The small town of Lillesand is a short drive and well worth a visit for some seafood by the water.
The main mobile phone networks are Telenor and Tele2. You can buy pay as you go sim cards from most convenience stores in town if you need a Norwegian number whilst here.
If you bring your pet and need a Veterinarian, you can visit the Tveit Dyreklinikk in Kristiansand
If you need to find a gym or a fitness centre in Kristiansand, you can search on the
Norwegian fitness Portal Gymlink which also has an English version
For a swim in a heated pool, there is the Kristiansand Svommehall (Swimminghall) in the city centre.

There are no surfable waves in Kristiansand, but you can drive to a spot called Lista that is 1.5 hours from kristiansand. It is ok, but unreliable.
Please use the blog page to write comments on your visit to Kristiansand as this will help others!