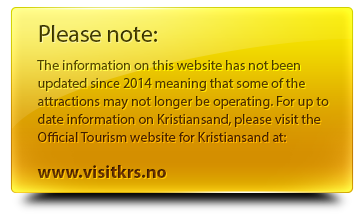 Kristiansand Norway is a place where you can enjoy a variety of different festivals. Most of these festivals take place in the warmer months of the year. The biggest and most famous festival in Kristiansand, is the Quart Music festival. Another great music festival in Kristiansand is the Dark Season festival in October.
Kristiansand's night of cultural events 25/04 www.kulturnatta.no
Kristiansand Children's Film Festival 27/04 - 03/05 - www.krskino.no
Kristiansand Blues Festival 13/06 - www.bragdoyablues.com
Kristiansand Museum Day - www.naturmuseum.no
Kristiansand Street markets (every Saturday during the summer) They have music acts, lots of stalls selling foods, clothing, etc www.posebyen.org
Kristiansand Culture Carnival www.kulturkarneval.no
Norwegian Gym festival in Kristiansand - www.gymfestival.com
Kristiansand Historical Plays at the Agder Theatre
Kristiansand Summer Market 06/07 - 19/07
Captain Sabeltann at the Kristiansand Zoo 07/07 - 29/07
Beach Volleyball World Tour at the city beach in Kristiansand 11/08 - 16/08 www.wtkristiansand.com
Kristiansand Museum Day 16/08 www.vafmuseum.no
Kristiansand Church Music festival 19/08 - 23/08 www.kirkefestspill.no
Kristiansand Jazz festival 03/09 - 05/09 www.punktfestival.no
Southern Norwegian Military Tattoo at Gimlehallen Kristiansand 05/09 - 06/09 www.sorlandettattoo.com
Southern Comfort festival in Kristiansand 11/09 - 12/09 www.southerncomfort.no
International Figure Theatre festival 05/10 - 11/10 at the Agder Theatre
Kristiansand Darkseason Music Festival 22/10 - 24/10 www.darkseason.com
And for the Christmas period there is the Christmas market 30/11 - 13/12
There are no surfable waves in Kristiansand, but you can drive to a spot called Lista that is 1.5 hours from kristiansand. It is ok, but unreliable.

Please use the blog page to write comments on your visit to Kristiansand as this will help others!