Kristiansand Flights
Kjevik (Kristiansand Airport 'KRS') is a 15-20 minute drive from the Kristiansand city centre alon the E18. The airport is also called Kristiansand Lufthavn and Kristiansand Flyplass to Norwegians.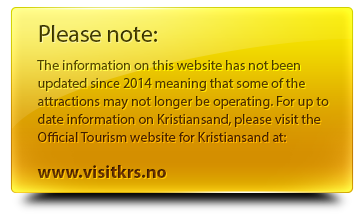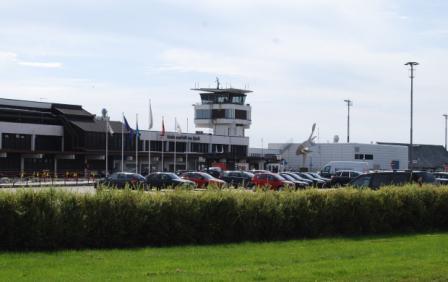 Kjevik is a relatively small airport and so flights are rarely delayed going out. Kjevik has a drop off area (5 minute maximum stay), short term parking which is quite expensive and long term which is more reasonable. The airport has a kiosk before the security checks and a 7 eleven store after security. There is also a duty free store at Kjevik which has some great deals. Your limits on alcohol when coming to Kristiansand airport or leaving are - 6 cans of beer, 1 bottle of wine and 1 bottle of spirits per person. The staff are very strict on this, as opposed to other airports in Europe that are very lax.
There are a few different airlines that fly to Kjevik (Kristiansand International Airport) but it is quite a small airport so the routes are limited. The direct routes to Kristiansand Kjevik airport are limited to Norwegian cities and Denmark. They obviously fly to other destinations as well by via another city or there are charter flights to holiday destinations. The Kristiansand airport recently has the best performance for flight times/departures than any other airport in Norway!
Avinor is the owner of Kjevik Airport and their website has up to date flight information to and from Kjevik. That link is to their website in English.
The nearest airports to Kristiansand are Stavanger and Oslo Sandefjord Torp. You can fly to Stavanger from Kristiansand but not from Kristiansand to Torp. You need to drive or get a bus to Torp from Kristiansand. To get to Torp from Kristiansand, you drive on the E18 all the way to Sandefjord (just follow the signs to Oslo and eventually there will be a sign for Torp).
Transport to and from the airport
Bus
To get from Kjevik airport into Kristiansand, there is an hourly bus (called Kristiansand Flybuss). The bus departs from outside the arrivals terminal at Kjevik. (Kjevik is a very small airport so you cant miss it. When you walk out of the terminal, the bus stop is on the left side). There is also a local bus (see details below but it stops many times before the city centre).
This is the Kristiansand Flybuss website in English www.flybussen.no
There are also buses from Kjevik to Arendal, Grimstad and Lillesand. If you want to get a bus from Kjevik Airport to Oslo, you can catch a bus from the airport and the driver will drop you off at the nearest stop where the Oslo bus departs from.
Here is a link to the Kjevik bus that will take you to Lillesand etc (not in English) - www.reiseinfo.no
Here is also a website that has limited English for buses from Kjevik to the Kristiansand city centre -
But dont worry if you are not sure, there is information at the Kristiansand airport on buses and someone will be able to help you.
Taxis
Agder Taxis Service have an offer called Airport Express with a fixed price of kr325 for up to 4 people to or from Kristiansand Central. This is Monday to Friday between the hours of
05.30 and 20.00.
Agder Taxis Info -
AGDER TAXI - TINNHEIVEIEN 15 4629 KRISTIANSAND TLF +47 38 00 2000, FAX.: +47 38 03 27 77.
EPOST: POST@AGDERTAXI.NO, WEB:WWW.AGDERTAXI.NO
Car
If you are driving a car, take the E18 all the way into town. See the location on the map page. If you want to hire a car from Kristiansand Airport, see our Kristiansand Car Hire page.
Flights
There is a new airline starting from Kjevik in April 2013. They have many direct flights to some great destinations in Europe. They are called Fly Non Stop and will be operating from Kjevik Kristiansand!!!!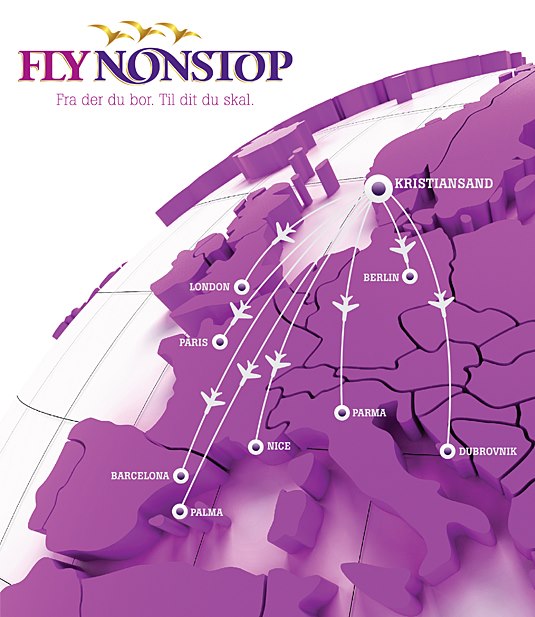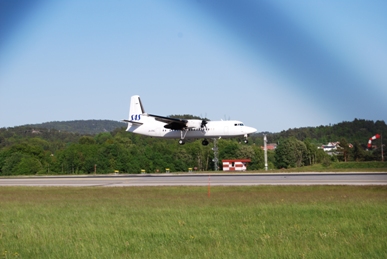 SAS is the major Norwegian airline with routes from Kjevik Kristiansand to all major Norwegian cities and also direct to Copenhagen. www.flysas.com/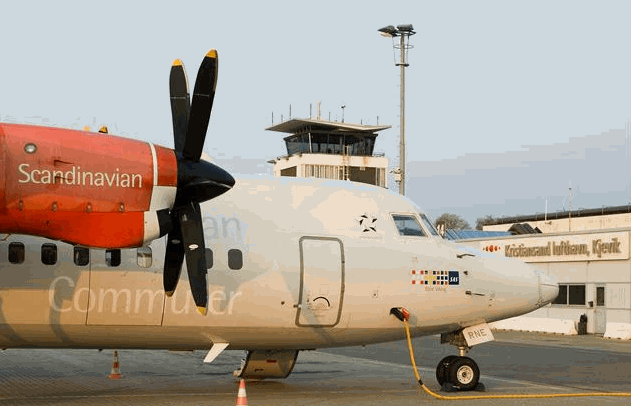 The picture is of a SAS plane parked at Kjevik. Courtesy of Bjorn van der Flier

Norwegian is the Norwegian discount airline and flies From Kristiansand Kjevik to Oslo Gardermoen 3 times per day. But you can connect to other cities from Gardermoen. The Norwegian Airline website allows you to select multiple destinations from Kjevik when you book. http://www.norwegian.no/sw7127.asp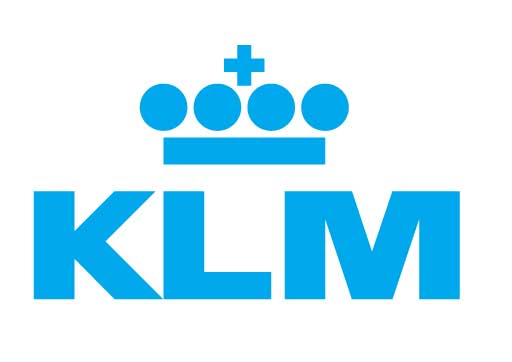 KLM have direct flights from Kristiansand to Amsterdam on a daily basis. www.klm.com SAS also offer a service from Kjevik to Amsterdam, but it is via Oslo or Copenhagen. This takes longer, but is generally cheaper than KLM. The picture above is of their brand new Embraer aircraft that flies from Amsterdam to Kristiansand on a daily basis. Courtesy of Bjorn van der Flier
Kjevik Charter Flights
During the winter months, people from Kristiansand love to travel to Spain and other parts of the world to get some sunshine and warmer weather. The charter flights are very popular and generally booked out - so get in early. The major charter airlines flying from Kjevik are SpanAir and Air Europa.
SpanAir and AirEuropa fly direct from Kjevik to the Canary Islands and other Spanish holiday destinations. Bookings can be made through Star Tour.
Staff from our website have recently travelled on a charter flight package to Gran Canaria from Kristiansand. It is great as the flight is 5 hours (with a stop to refuel on the way and direct to Kristiansand on the way back). Problem is, that the flight attendants don't have a change-over and so they can be a little moody from the Kristiansand to Gran Canaria route as they have already worked 6 hours! Patience is a virtue. The way back, however, is a lot better!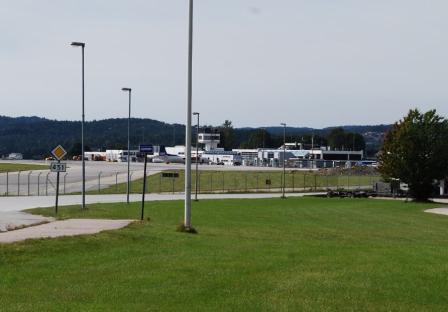 Contact details for the Kristiansand airport are -
Kristiansand Kjevik Airport
Telefon: 38 06 56 00
Telefaks: 38 06 31 22
Below is a picture of the signs to the airport from the E18.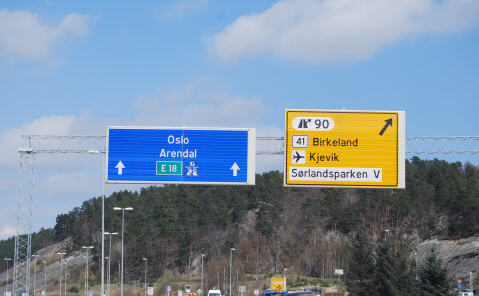 This is a picture of Tveit with Kjevik in the background.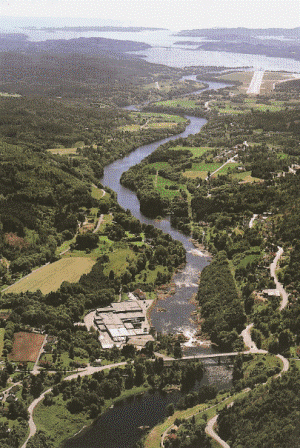 Here is a question from a visitor to the site in relation to buses to Torp from Kristiansand -
---------------
John (UK)
25 April 2009
Subject: Website link for bus in Kristiansand

If you can help, I want to travel from Kristiansand to Torp Airport on 14th May.
Regards, John

----

Hi John,

Thanks for your email.
Use the Norway express link on the site. It is in English and will give you times and prices.
Just to let you know, the bus will stop at a petrol station, which is a 5 minute drive away from the airport. Ask the driver to let you know when you get to that drop off point and if he can order you a taxi to pick you up from that point. The bus drivers are very helpful here, so that should not be a problem. The taxi is about 100 NOK.

Cheers,
Adam Read

www.kristiansand-norway.com
---------------------------------
We have 5 different options to choose from in relation to travelling in Kristiansand.
Choose from the options below.